Don't Frack... the Commonweal. 2017.
The making of the 'Don't Frack the Commonweal', 6 minute film, for more info scroll on down
Westminster has lost its way. It was forged by the concept of the 'Commonweal', an idea that power should be vested in the people, not the crown. But now Westminster doesn't serve the people, it serves the interests of the fossil fuel industry, global finance, and the oligarchy.
So it seems good to use a forgotten vernacular craft (bodging), to create an icon representing an archaic idea (the Commonweal), to present to the ancient institution it created (Westminster), to remind it of its intended purpose.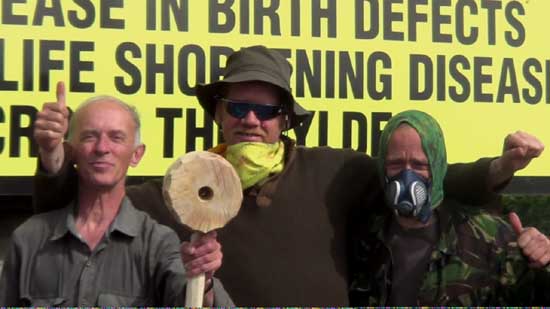 18/5/17. Protectors at Maple Farm near New Hope Community Protection Camp, Lancs, having made the first spoke. This is the fracking front line in 2017, fracking was suspended here after causing earthquakes in 2012. Now they're back, do frackers care about causing earthquakes under Blackpool Tower? Apparently not.
The 'Don't Frack the Commonweal' icon will be an 8-spoked wheel.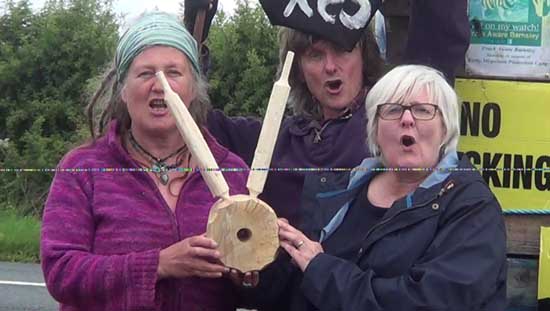 To this end I am touring the England's protection groups, camps, and direct action frontlines. 19/5/17. Kirby Misperton Community Protection Camp, Ryedale, N. Yorks. with the second spoke they'd made, where drills are anticipated arriving soon.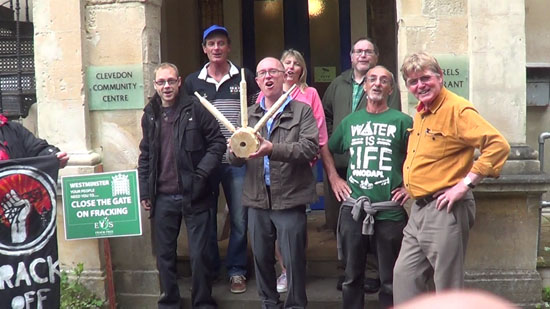 7/6/17. At a screening of the excellent Australian anti fracking victory film the Bentley Effect, hosted by Frack Free Exmoor Quantoks and Sedgemoor, Frack Free North Somerset, Frack Free Yeovil and Surrounding Areas, and Frack Free Somerset, at Clevedon Community Centre, a handful of people made the third spoke. Fracking imminent in these areas, including remarkably close to Hinkley Point C! Do these frackers give a xxxx? I think not.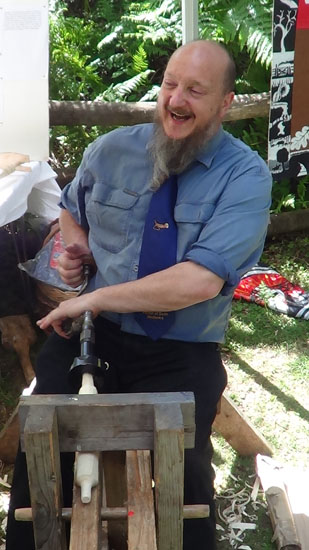 9/7/17. The 4th spoke was made in the Forest of Dean at '800 Years and Counting' an event celebrating 800 years of defending the Forest Charter, and the Forest from enclosures, sale and fracking. A dozen people worked on the spoke including Verderer Rich Daniels. Fracking licences have been returned to the govt after a 13 month resistance campaign by Frack Off Our Forest. They could be taken up again at anytime, but I'll eat my hat if they get a drill in the ground here.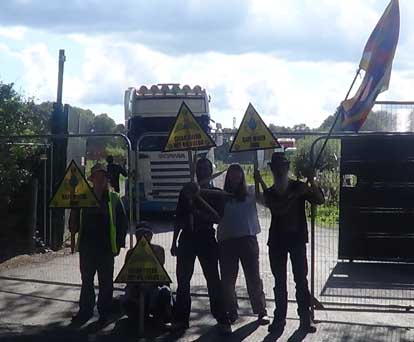 15/8/17. The 5th spoke was made at the West Sussex Broadford Bridge drilling site. It was made from a thick vine strangling an oak on the road side. It got finished just in time to block a lorry trying to leave the site. It's a conventional oil well site, but they just started drilling a fracking well without planning permission, do frackers care about local government regulations - hell no.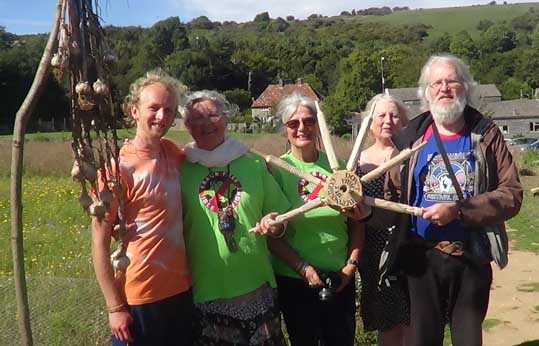 18/8/17. Spoke 6 was made by Frack Free Isle of Wight at the Garlic Farm. It was made from found maple wood. Shaped with the help of visiting tourists from all over the UK, at this time of year the IoW is rammed with tourists, do the frackers care about local tourist industries? Erm, no, not at all.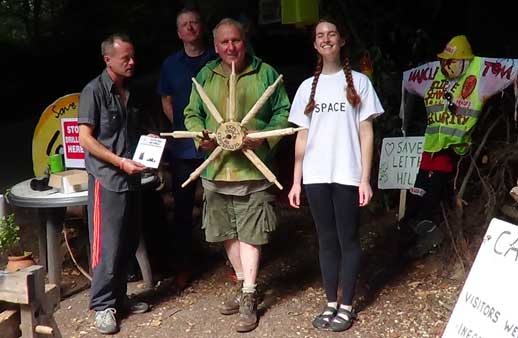 27/8/17. Spoke 7 was made by a dozen people at the Leith Hill Protection camp opposite the secured drill site in Surrey. The protecters fortress defending the prospective site was obliterated a month before I arrived, but the new camp is beautiful, roll up campers, this is one beautiful part of England. It is also commuter belt London, is there no where these frackers dare not tread? Ha, NO.
5/9/17. Spoke 8 was made at the Marriotts of Fire Protection Camp at Clay Cross Derbyshire, from roadside pear tree.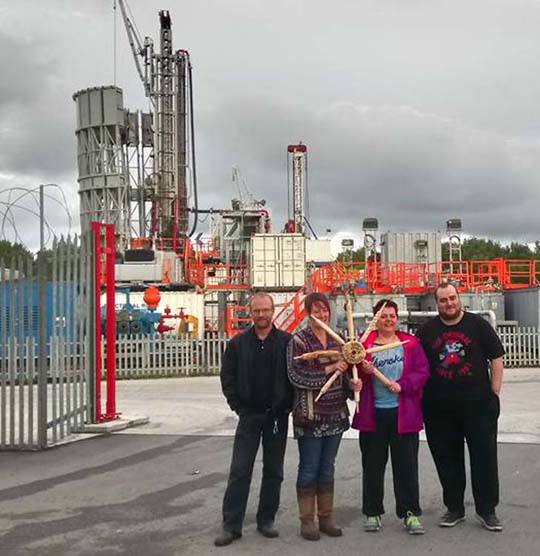 Marriot Drilling Group are assembling many of the drilling and gas rigs to be used round the country. They are the same big ugly rigs you can google operating in the US and Australia, its coming here. For maxing profits frackers want 10 of these rigs per sq mile.
Their logo says it all, are they remotely aware of concepts like sustainable development or global warming? Clearly not a hint of a clue.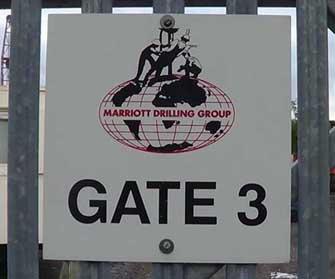 Bodging or green woodwork is the peasent craft of making what you want from a log using hand tools, it develops your relationship with your habitat. Coppicing wood also enhances the bio diversity and usefulness of your environment. So it is not only a contemporary craft of the commonweal, it is also in contrast to fracking which is concerned with profit at the expense of the viability of our environment to sustain us.
You could think of this project as 'community conceptual woodwork', but I call it 'environmental issue based art'.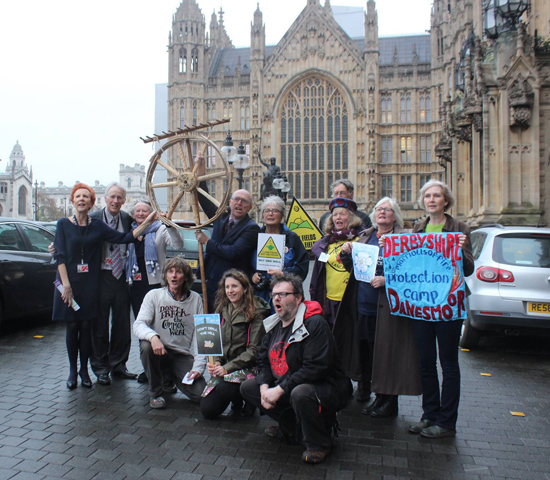 On the 20 Nov 2017 protectors came from the 8 camps and gatherings to Westminster to present the 'Don't Frack the Commonweal' wheel to pro-democracy, anti-fracking supporting peers, Baronnesses Jan Royall (Labour), Jenny Jones (Green), and Lord John Grantchester (Labour Energy spokesperson) to remind Westminster of its intended purpose.
The wheel was hung from a well used bodged hay rake, partly for ease of presentation, but also to represent peasants going to London and our close relationship with the land. Its a long time since anyone tried taking a hay rake through Westminster security.
Arise Commonwealists, we did it once, we can do it again, its time to revive 21st Century Commonwealism, Power to the People not Crown nor Corporation.
This project is actively supported and enabled by Frack Off Our Forest.
https://www.facebook.com/Frack-off-our-Forest-802500636514169/
https://forestadvocate.wordpress.com/
Frack Free North West, Lancs https://www.facebook.com/FrackFreeNorthWest/?hc_ref=ARSluy52d3S5MVvzy9KSvVIkr3hnW-kDT-Yinp8431aTLQ6ct4sKB4X0bx80sqoL4A4
Kirby Misperton Protection Camp, North Yorkshire https://www.facebook.com/groups/573619286143264/?ref=br_rs
Frack Free Exmoor Quantocks and Sedgemore https://www.facebook.com/FrackFreeEQS/?ref=br_rs
Frack Off Our Forest, Forest of Dean https://www.facebook.com/Frack-off-our-Forest-802500636514169/
Broadford Bridge Protection Camp West Sussex https://www.facebook.com/Broadford-Bridge-Protection-Camp-229225000914104/?hc_ref=ART6jEjOf_h4sezpFcrpyHgbfDze4Rhga9-bXtPJvsVAlKyVi2TnxMEpcpCV9POP900
Frack Free Isle of Wight https://www.facebook.com/profile.php?id=588568071193611&ref=br_rs
Leith Hill Protection Camp Surrey https://www.facebook.com/groups/LeithHillCamp/?ref=br_rs
Marriotts of Fire Protection Camp, Derbyshire https://www.facebook.com/groups/1726094950738820/permalink/1727859547229027/
'Twin Town Bodged Commonweal'


By a gathering of Forest of Dean Bodgers. At the Rewild Project's green wood workshop at the Dean Heritage Centre, 21 Aug 2016.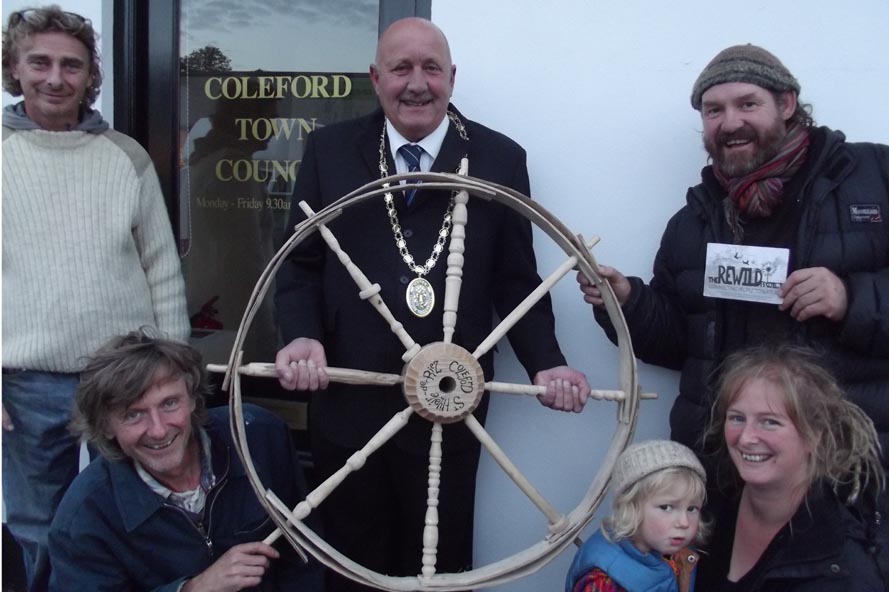 FoD Bodgers Mike May, Tom Cousins, Scott Baine, Wren and Nicola Goff present Coleford Mayor Paul Kay with our commonweal to give take to our new twin town, St Hilaire-de-Riez.