Don't Frack... the Commonweal. 2017.
Westminster has lost its way. It was forged by the concept of the 'Commonweal', an idea that power should be vested in the people, not the crown. But now Westminster doesn't serve the people, it serves the interests of the fossil fuel industry, global finance, and the oligarchy.
So it seems good to use a forgotten vernacular craft (bodging), to create an icon representing an archaic idea (the Commonweal), to present to the ancient institution it created (Westminster), to remind it of its intended purpose.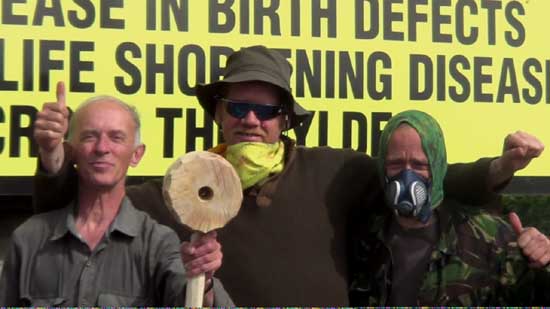 Activists at Maple Farm near New Hope Community Protection Camp, Lancs.
The 'Don't Frack the Commonweal' icon will be an 8-spoked wheel.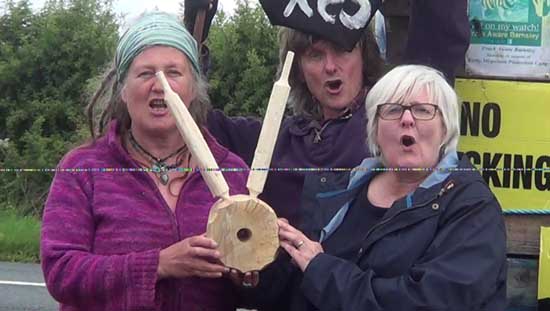 Kirby Misperton Community Protection Camp, Ryedale, N. Yorks.
To this end I am touring the England's protest groups, camps, and direct action frontlines. I started with New Hope (Lancashire) where daily direct action to stop drilling is in progress because this is the anti fracking frontline, and Kirby Misperton (North Yorkshire) where drills are anticipated arriving soon.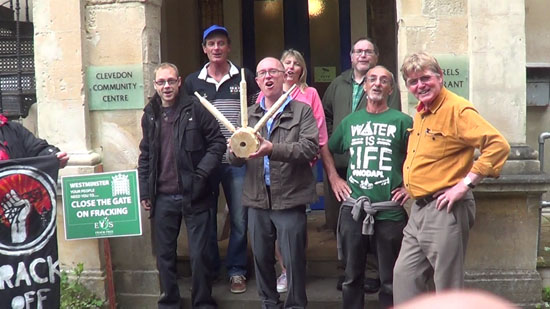 At a screening of the excellent Australian anti fracking victory film the Bentley Effect, hosted by Frack Free Exmoor Quantoks and Sedgemoor, Frack Free North Somerset, Frack Free Yeovil and Surrounding Areas, and Frack Free Somerset, a handful of people made the third spoke. Fracking imminent in these areas, including remarkably close to Hinkley Point C! Do these frackers give a xxxx? I think not.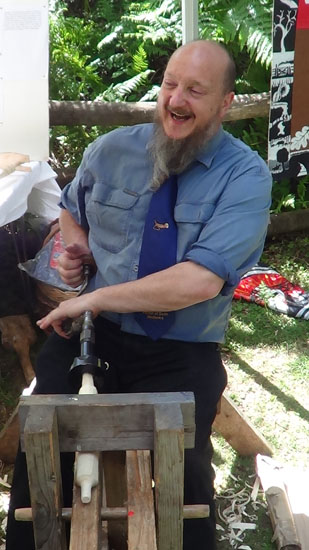 The fourth spoke was made in the Forest of Dean at '800 Years and Counting' an event celebrating 800 years of defending the Forest Charter, and the Forest from enclosures, sale and fracking. A dozen people worked on the spoke including Verderer Rich Daniels. Fracking licences have been returned to the govt after a 13 month resistance campaign by Frack Off Our Forest. But they could be taken up again at anytime.
When completed we will take the 'Don't Frack the Commonweal' to the steps of Westminster to present to pro-democracy, anti-fracking supporting MPs and Lords, to give power to the elbows in the resistance of the fossil fuel industry power grab.
This project is actively supported and enabled by Owen Adams Forest Advocate and FOOF
https://www.facebook.com/Frack-off-our-Forest-802500636514169/
https://forestadvocate.wordpress.com/
'Twin Town Bodged Commonweal'


By a gathering of Forest of Dean Bodgers. At the Rewild Project's green wood workshop at the Dean Heritage Centre, 21 Aug 2016.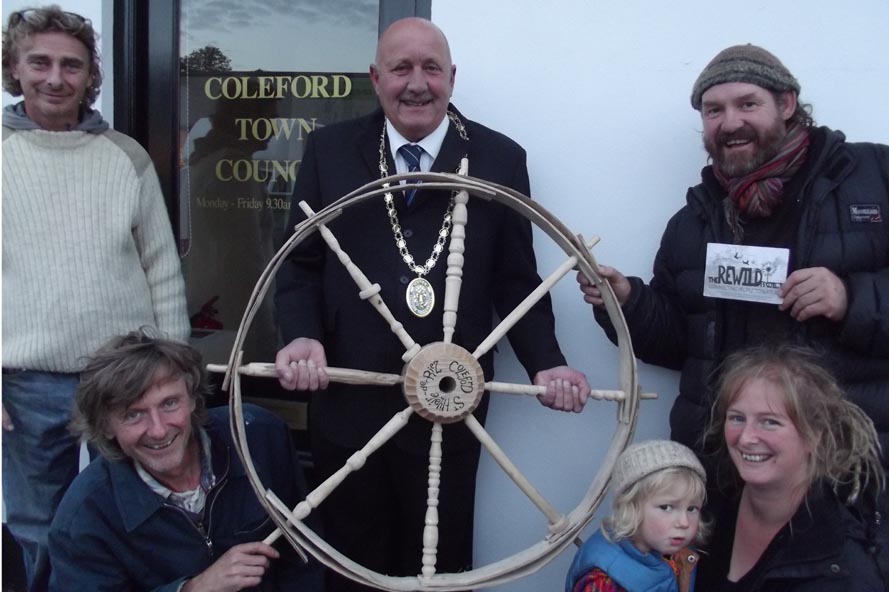 FoD Bodgers Mike May, Tom Cousins, Scott Baine, Wren and Nicola Goff present Coleford Mayor Paul Kay with our commonweal to give take to our new twin town, St Hilaire-de-Riez.