| | | | | |
| --- | --- | --- | --- | --- |
| | | 2014 | 2015 | |
Frack Off Our Forest, 2015 - 2016
FIRST BATTLE WON! FRACKING COMPANY WITHDRAWS FROM LICENSES!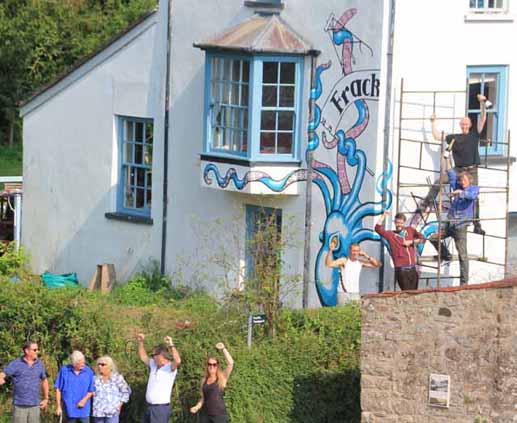 Brockweir residents celebrate South Western Energy handing in their licenses to frack the FoD, announced half way through a mural I was painting of a kraken from the deep, emerging from the Wye estuary to rip up noisy toxic rigs.
Mural ad 2 mins.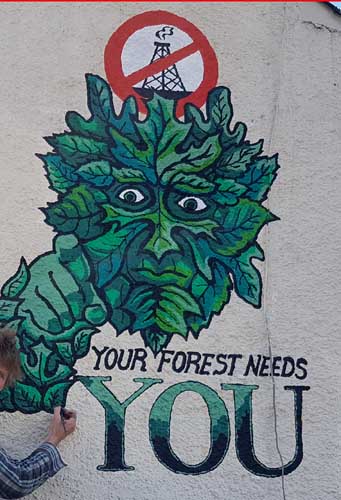 The government opened up the Forest of Dean to fracking licenses in Sept 2015. The Forest of Dean District, Town and Parish Councils have voted in anti fracking motions. With near total public support for the anti fracking campaign I have begun a series of murals to support Frack Off Our Forest.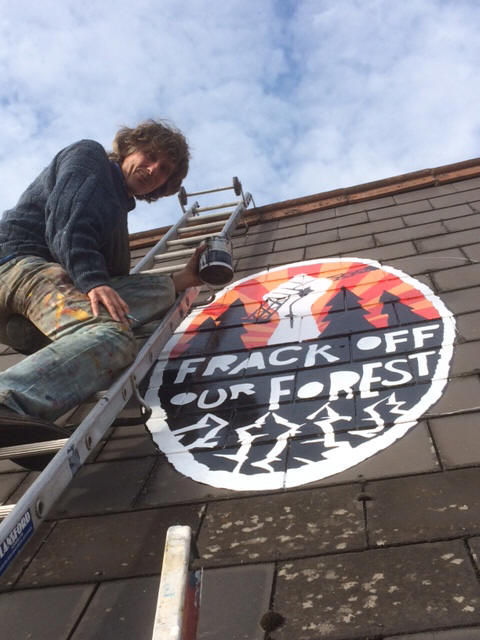 Reckless Designs in Coleford was being repainted and asked me to nip up on the roof and paint in a Frack Off Our Forest image by Andy Squiff. It's my first roofal, so I've no idea if it's legal but Mr Reckless said he'd worry about that, and the local community seems happy with it. It is quite a militant image, but that suits Kevin the owner.
http://www.theforestreview.co.uk/article.cfm?id=101260&headline=A%20SHOUT%20FROM%20THE%20ROOFTOPS&sectionIs=news&searchyear=2015
http://www.theforestreview.co.uk/article.cfm?id=101260&headline=A%20SHOUT%20FROM%20THE%20ROOFTOPS&sectionIs=news&searchyear=2015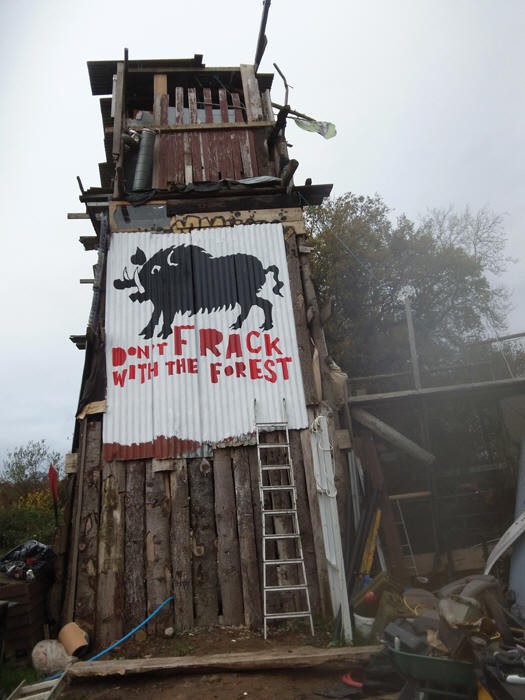 The agroecologists squatting Yorkley Court Community Farm wanted an anti fracking painting on their gateway barricade. I was happy to oblige. The boar is becoming a symbol for the Forest of Dean, and a frequent Celtic icon. It represents freedom (few natural predetors), will fight to the death to protect what is theirs, and having fun frollicking in the mud. Which all made it the perfect image for the Farm. Thanks to Andy Squiff for another fine design. I was also keen to paint this one because it's a notice to any prospector fracking companies - barricade builders live locally, security is going to be expensive.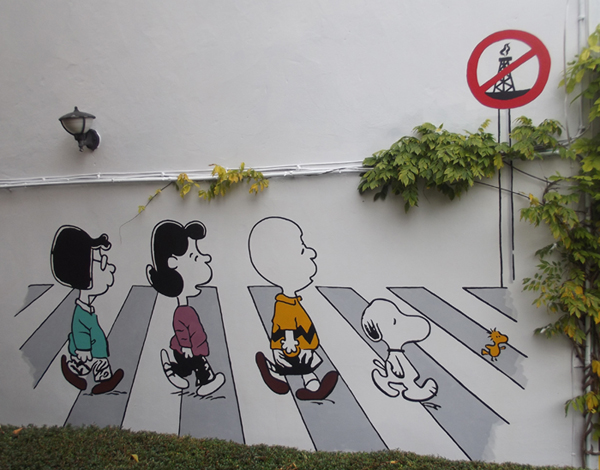 The good thing about this project is that I don't need to commute. My neighbours were interested in a Frack Off Our Forest mural, they are Peanuts fans. Since most toxicity studies are based on exposure for adult males, it is children and pregnent women who suffer poisoning first when a fracking well opens up next door. So I thought a Peanuts cartoon would be an appropriate image to highlight this. The thought that Peanuts would support fracking is so absurd I didn't want to waste the copyright holders time by contacting them.
My view on unconventional gas extraction (fracking) is that it is even more toxic for the environment than conventional extraction, and is not needed because most of our energy needs can and need to be met using renewable energy. The people set to gain are global fossil fuel corporations leaving residents in a toxic nightmare with negative equity. To acheive fracking the government is over riding local government and planning committees. It all sounds barely legal.
For more from Andy Squiff http://www.squiffweb.co.uk/
Yorkley Court Community Farm https://yorkleycourt.wordpress.com/
https://yorkleycourt.wordpress.com/
Frack Off Our Forest facebook page https://www.facebook.com/Frack-off-our-Forest-802500636514169/?fref=ts
https://www.facebook.com/Frack-off-our-Forest-802500636514169/?fref=ts
For links to renewable energy reports and latest news https://www.facebook.com/ResilientEnergy/?fref=ts
https://www.facebook.com/ResilientEnergy/?fref=ts
| | | | | |
| --- | --- | --- | --- | --- |
| | | | | |