Welcome to the Tom Cousins Community and Education Art page. I've always done some school playground murals and youth club murals designing and painting with the children and young people so as to maximise their input. More recently I was increasingly asked to include educational outcomes into projects. Sometimes involving schools in larger projects like painting on fibreglass sheep for Sheepscape, plyboard boar at Taurus Crafts, or cement sculpture at Blakeney Primary School.
However in recent years thanks to austerity measures the Forest of Dean Youth Service has more or less been closed down, and money for art workshops in schools has dried up.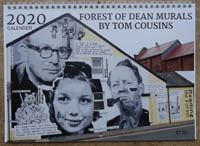 2020 calendar of my murals for sale, month to view pages, click on image to go to ebay.
(About Tom Cousins) (links) (Contact)