MURAL PAINTING WORKSHOPS IN YOUTH CLUBS.
For the last ten years I have been running mural painting projects in youth clubs, to decorate walls on site, locally, or skate board ramps. The form of the workshops vary according to number of youths involved, their ability, motivation, and type of wall to be painted and desired quality of outcome.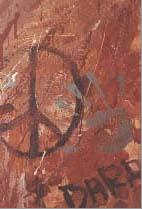 'Past to Present', Redbrook Village Hall, Forest of Dean, 2003.
Painted by Tom Cousins with the 'Off Limits' youth club age 9-16.
Eggshell paint with powdered ochre colours.
Click the pictures for more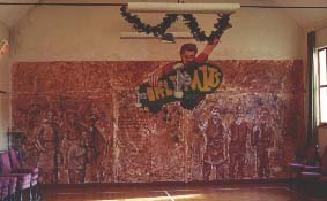 The starting brief was to paint a mural reflecting the past and present usage of the village hall. The Hall was built from donations by tin plate workers earlier in the century. Some of the youth club members are direct descendents of them.
The iron for the tin plate process would have come from nearby Clearwell Caves, mined by children the same age as the youth club. I took the group caving down the caves to mine ochre colours for the mural and check out examples of iron ore.
Following a design workshop we decided to 'Jackson Pollock' the background in ochres, then trace, project and paint photos of tin plate workers. We did a bit more 'Pollocking' so the workers appeared to fade into the mists of ochre. Then trace, project and paint up the skate boarder representing current youth activity. The ochres we had mined were smeared into the paint on the wall. As finishing touches the group wrote small symbols and slang words from the past and present, and did some hand printing etc.
The mural met with widespread approval from the hall using community, partly on grounds of its respect for local history. But also because the muted colour range yet complexity of paint finish is quite mesmorising. The yoga club are said to be appreciating it and noticing a little more of it every week.
Other Youth Clubs

Painting on playground wall with Newnham Youth Club, Forest of Dean, 2004.
Click on image for enlargement

Beachley Youth Club, Chepstow, 2008
Click on image for enlargement

Painting in Coleford Youth Club, Forest of Dean, 2005.
Click on image for enlargement